Event Date:
Saturday, May 8, 2021

to

Thursday, July 1, 2021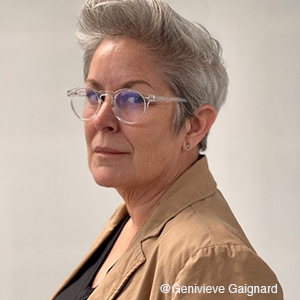 Artist Bio:
Erin Elizabeth Adams is an American interdisciplinary artist, Queer parent and activist. She was born in Anacortes, Washington and raised in Southern California. Adams graduated with honors from Otis Art Institute in 1987 and is currently an MFA candidate at the University of California, Santa Barbara, 2021. Her work has been in solo and group exhibitions in museums, galleries, public and online spaces. She has exhibited both nationally and internationally, including but not limited to London Biennale (2020), Highways Performance Space (2020), University of California, Santa Barbara, Glass Box Gallery (2019–2021), The Millard Sheets Art Center (2018), and The Los Angeles, LGBTQ Center's Advocate and Gochis Galleries (2017). Adam's work is in the permanent collection of the Los Angeles LGBTQ Center's archives, and it has been reviewed in Hyperallergic. Adams was the proud recipient of a UCSB MFA Graduate Fellowship from 2019 through 2021, an award supporting her artistic work with academic research.
Artist Statement:
My work engages with audiences through immersive installations, sculpture, painting, performance, video, and social practice. Through various mediums, I explore themes of Queer culture, chosen family, activism, futurism, ageism, power structures and race. The work emerges from a combination of lived experiences, personal mythology and my research in the study of Queer bodies in contemporary American culture. Some of my artistic influences include Catherine Opie, Zanele Muholi, Njideka Akunyili Crosby and Beatriz Cortez. These creators all insist on personal representation and equity through different mediums in their work. My social practice work involves collaborations with other artists and volunteers on activist projects such as the street mural "ALL BLACK LIVES MATTER," at Hollywood Boulevard and Highland Avenue, and "DEFUND ICE," at McArthur Park, both produced in the summer of 2020 in Los Angeles, California.
During my Master of Fine Arts program, in the middle of the global COVID-19 pandemic, my work turned to themes of isolation, trauma, survival strategies, and potential futures, using drawing, still photos, installation, performance and video work. My newest project, "Lowkey Reboot," explores abandoned art spaces during the Coronavirus pandemic to imagine maintenance strategies and potential sculptural futures. In this collaborative video, I work with my son Spencer Knox-Adams, to clean, dance, and create a ritual and a sculpture within the space. Using florescent painted Witches burr, disco lighting, a plexiglass pyramid, and an original soundtrack by my nephew Calvin Diego Adams, my work gains new life and power from performing self-determination and resilience. 
WORKS: 
Click on images for larger view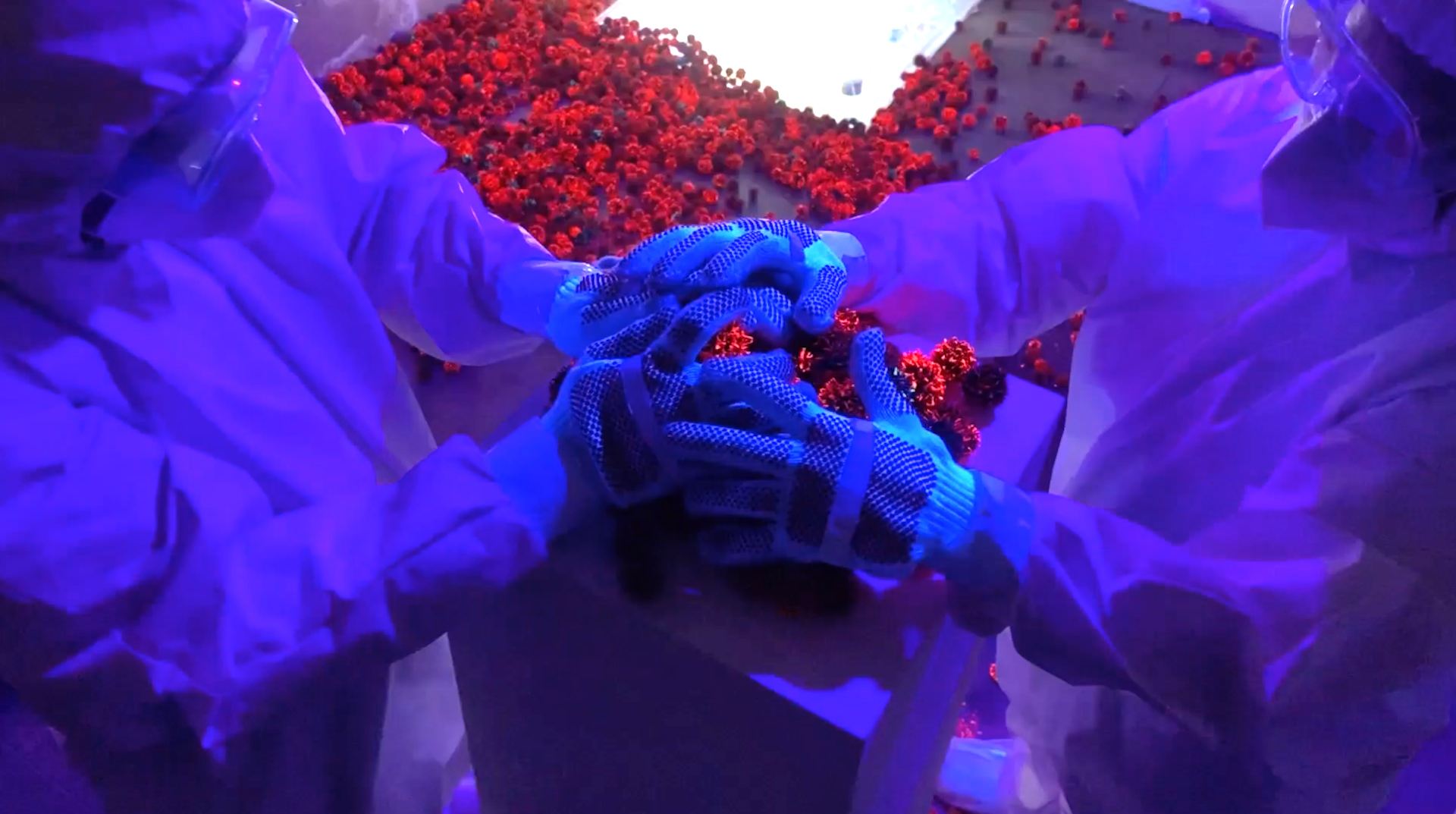 Lowkey Reboot (2021)
Abandoned art gallery, painted Witches burrs, plexiglass pyramid, disco lighting, sound design
40 x 20 ft.
Video link: https://www.youtube.com/watch?v=1mfsvoYJke4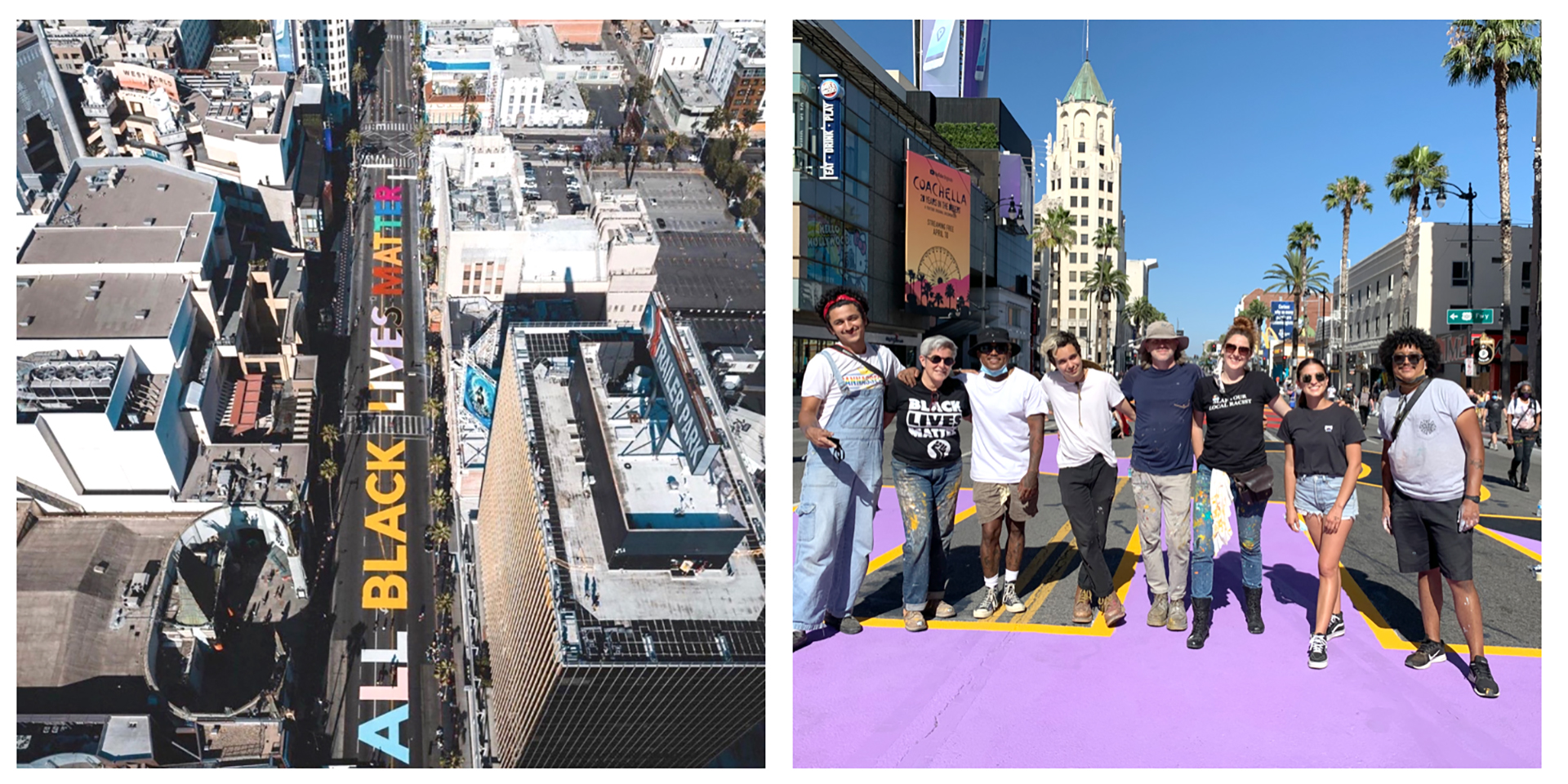 ALL BLACK LIVES MATTER (2020)
Social Practice Collaboration: Street Mural at Hollywood Blvd and Highland Ave., Los Angeles, CA.
Paint, volunteers, protest
750 x 30 ft. / see comments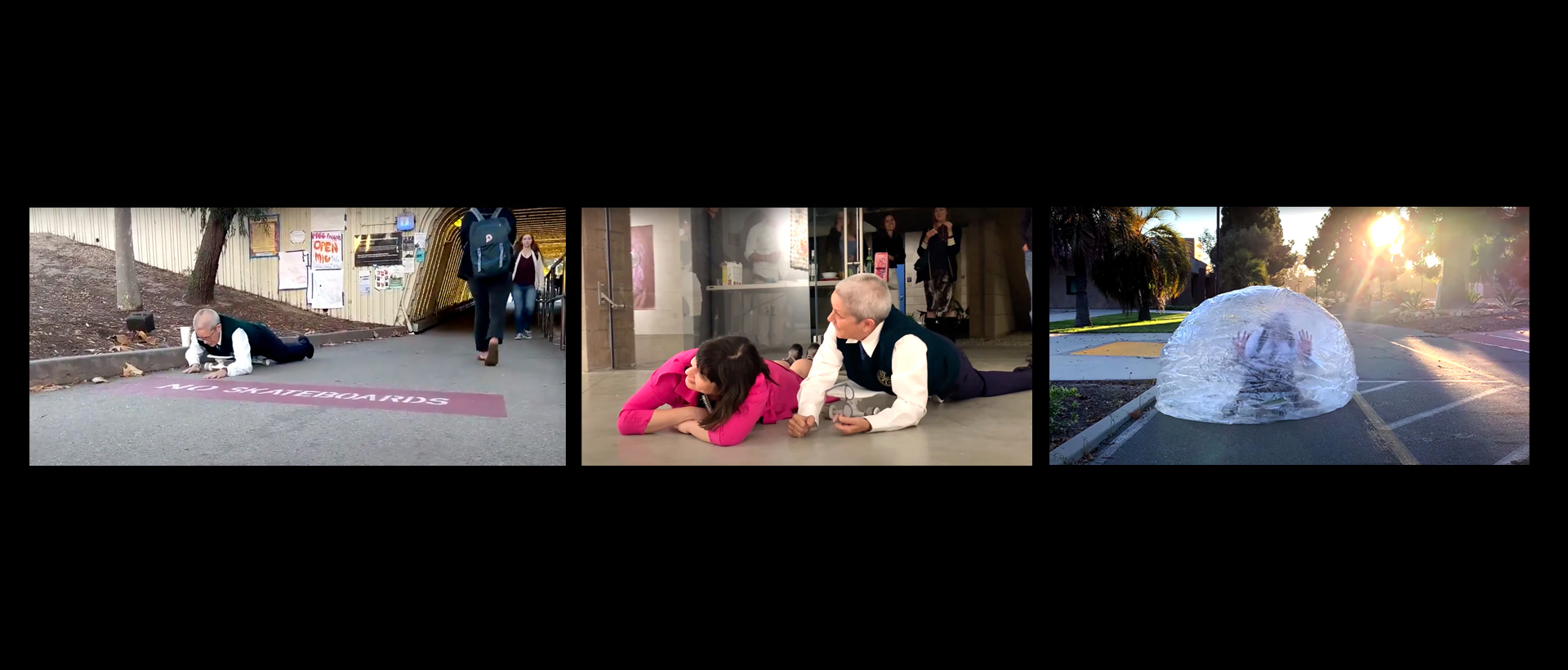 BACK TO SCHOOL I, II, and III (2019-2020)
UCSB campus, skateboard, school uniform, backpack, plastic water walking ball
Various dimensions / see comments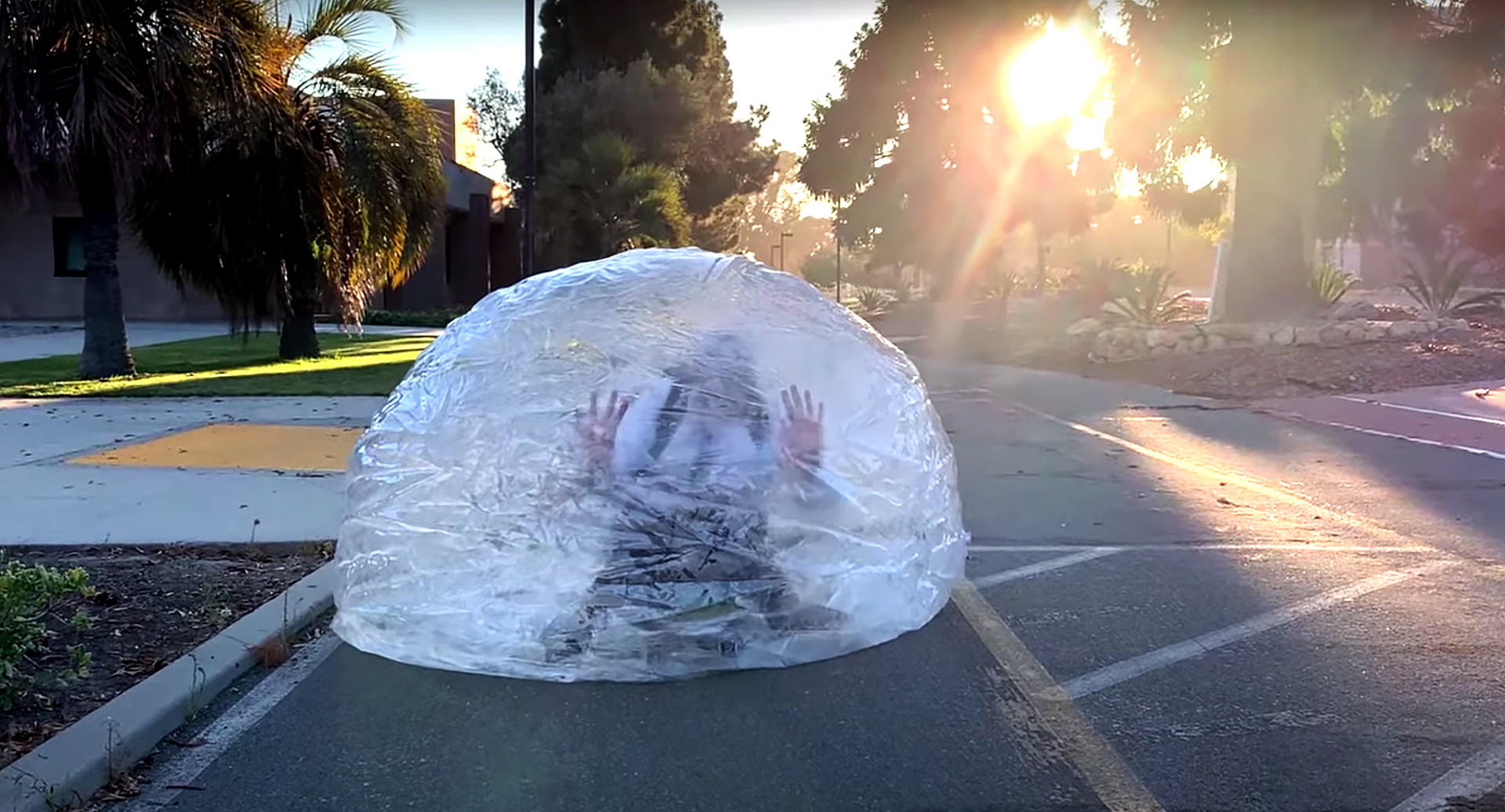 BACK TO SCHOOL III (2021)
6-inch plastic water walking ball, skateboard "Arrow", backpack, school uniform
Various dimensions / see comments
Video link: https://www.youtube.com/watch?v=OVWoq8F_ytc&t=11s
L'Amour Fou (2020)
UCSB campus, Queer discotheque, Gillie's camouflage suit, strobe lighting
Video link: https://www.youtube.com/watch?v=AjWTA6pgiSg&ab_channel=ErinAdams

L'Amour Fou Relics (2020)
Digital image, black paper, oil pastels
16 x 48 in.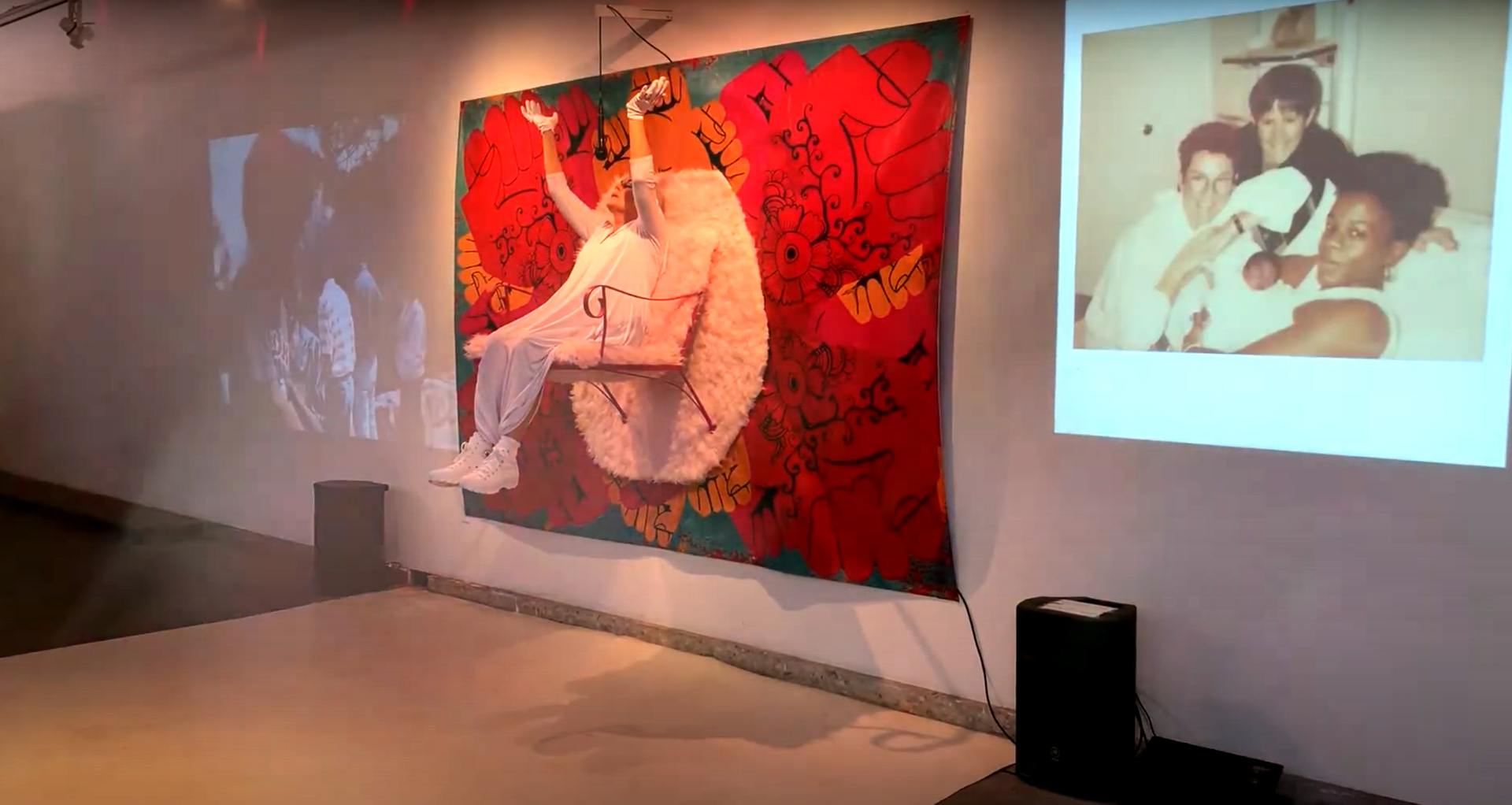 Chaired  (2019)
Collaged vinyl banner, altered steel vintage chair, faux fur, projections, laminate flooring, sound design
22 x 16 ft.
Video link: https://www.youtube.com/watch?v=evsq5Air5kw&ab_channel=ErinAdams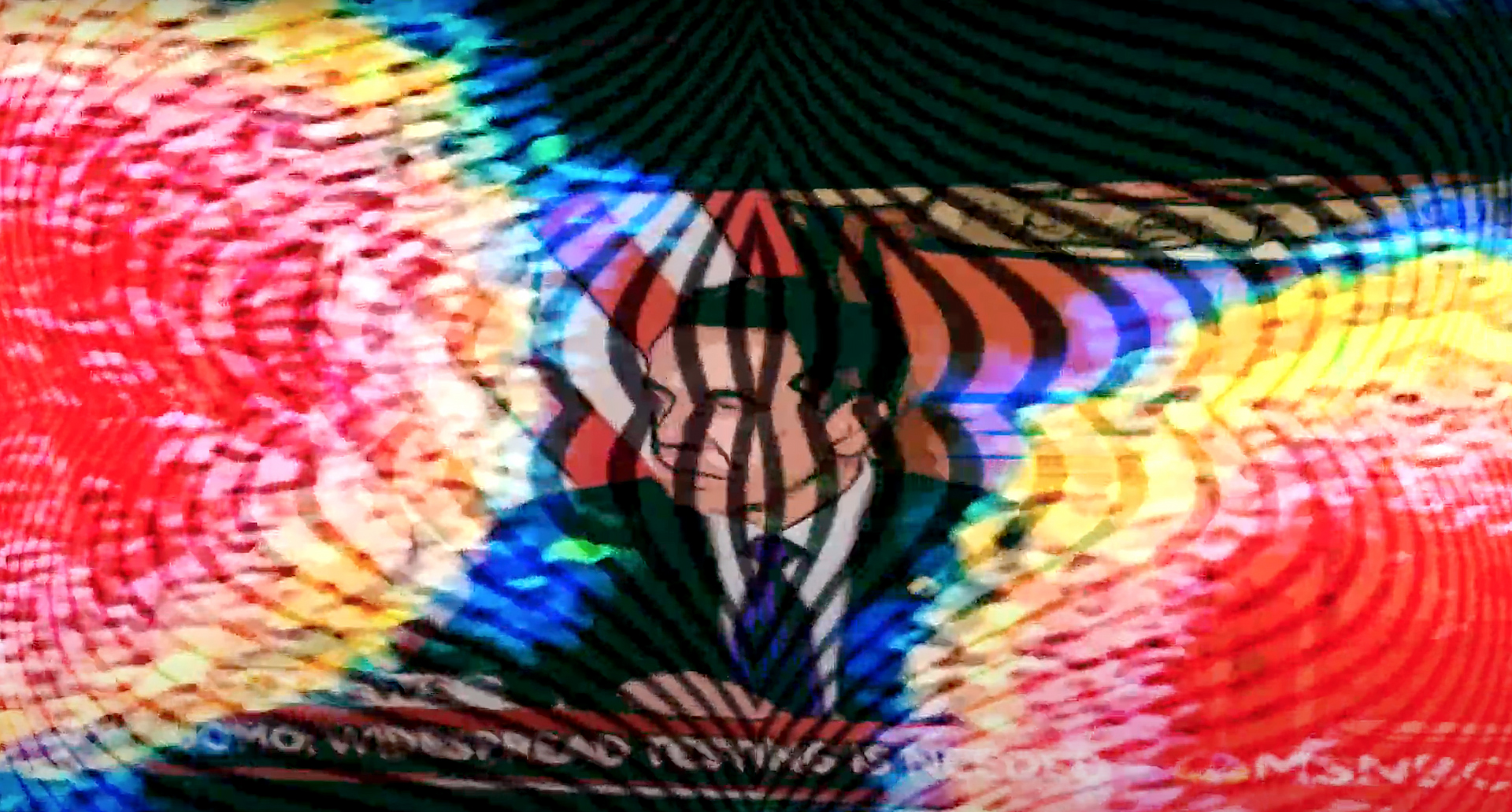 The Great Pause (2019)
Collaborative video Erin Adams / Kio Griffith
Archival video materials, video
Video link: https://www.youtube.com/watch?v=6l62JEXDPAo&ab_channel=ErinAdams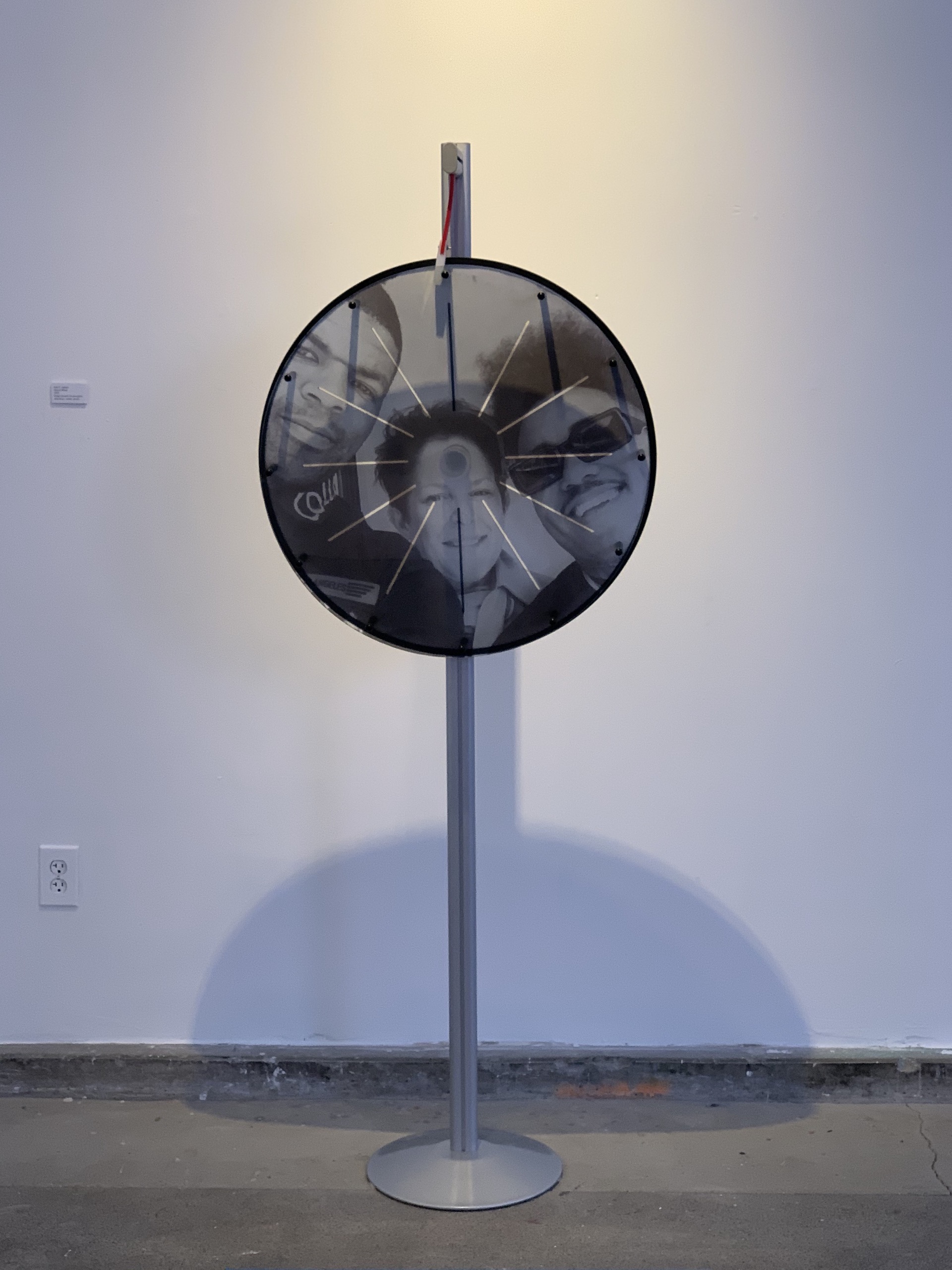 Biased Wheel (2019)
Family photo transparency film, aluminum, and plexiglass trade show roulette game
68 x 29 in.
May 5, 2021 - 2:19pm