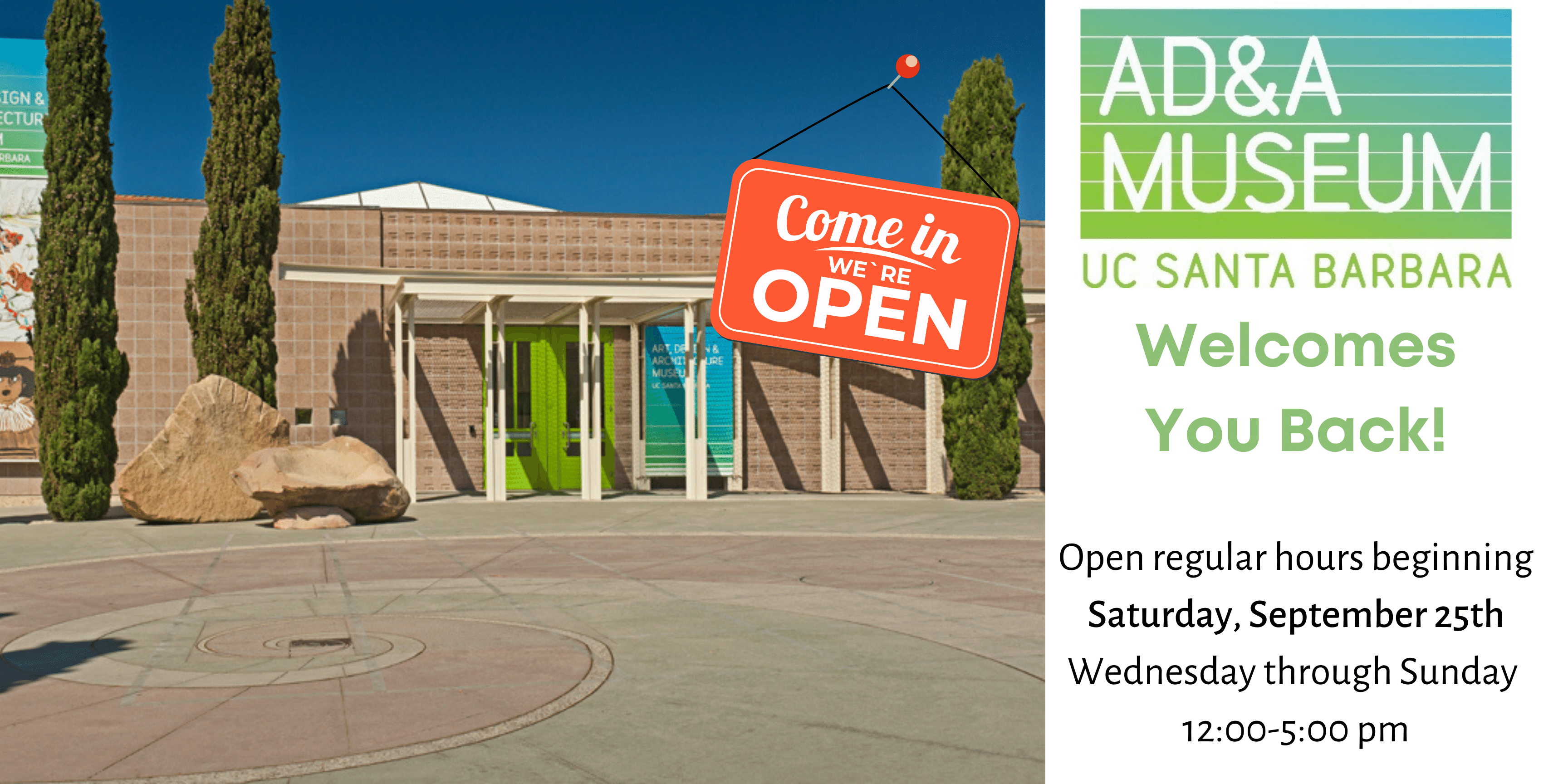 New Safety Protocols
Visitors from outside UC Santa Barbara, including vendors, consultants and external collaborators, will be required to fill an On Demand Screening Survey and receive approval before arriving on campus, where they will show clearance badges.
 
Visitors affiliated with UC Santa Barbara will need to complete a COVID-19 Screening Survey and receive the subsequent approval before arriving on campus.
 
The Museum´s front desk personnel will ask all visitors (affiliated and non-affiliated) to show their clearance badge from the screening survey. Visitors who lack a clearance badge will not be allowed to enter the facility.
 
Visitors who have not filled their surveys will be asked to do so at the museum entry. To this end, the Museum will provide online access to the screening survey via a tablet that will be disinfected after each use.
 
All visitors will be required to wear face coverings in the Museum galleries. Face coverings will be provided to those visitors who do not have one.
 
Touching surfaces in the galleries are minimal. Only Museum staff and gallery assistants will be authorized to operate monitors and screens.
 
The museum's ventilation has been evaluated, and it meets or exceeds requirements defined by the State of California and Cal/OSHA. Our Facilities Management colleagues have sought to maximize building ventilation and filtration levels wherever possible, consistent with best industry practices.
Visiting the Museum
Museum Hours: Wednesday through Sunday, 12 to 5 pm.

Admission: Free for all visitors

Directions and Parking: click here (We are adjacent to the University Center and Storke Plaza/Tower.)

Video Driving and Parking Directions: click here

Guided Tours: Call 805-893-4320 or email events@museum.ucsb.edu

Weekend Museum Entrance phone number: 805-893-5257
Visiting the Archives
Works from the Art Collections may be studied in the Museum Print Room, available by appointment only. To reserve the Print Room, please contact Susan Lucke, Collections Manager, at 805-893-4598.
The Architecture and Design Collection is available by appointment only. Please contact Julia Larson, Reference Archivist at museum-adc@ucsb.edu to schedule an appointment.