Event Date:
Saturday, January 9, 2021

to

Sunday, April 25, 2021
Event Date Details:
Due to convid-19 restrictions, all exact dates and times are tentative and subject to change.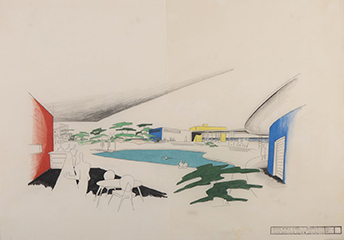 Image: Lutah Maria Riggs (American, 1896-1984) & Arvin B. Shaw, III (American, 1916-1973). Beach club (not realized), Serena Beach, near Montecito, California. Perspectival view of swimming pool, 1947. Lutah Maria Riggs papers, Architecture and Design Collection. Art, Design & Architecture Museum; University of California, Santa Barbara.
July 14, 2020 - 11:03pm