Event Date:
Saturday, July 8, 2017

to

Sunday, August 20, 2017
Event Date Details:
Opening reception July 7, 2017  5:30 - 7:30pm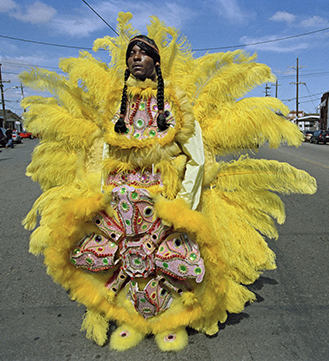 Image: Mardi Gras Indian in Treme Neighborhood, Mardi Gras, New Orleans, LA  2006, color photograph, 36 x 48".
For over 40 years Nell Campbell has documented the people and places she encounters in the everyday, on her travels, and at the political gatherings she frequents. Consequently, she has assembled a significant archive of photographs, many of which are on view for the first time in About Face. This solo museum presentation, a first for the artist in California, will be focused on the individuals who caught her eye. As an inveterate observer, with an open, friendly nature, Campbell's photographic practice has always been rooted in people: their way of life, struggles, and merriment.
This museum presentation includes images from some of Campbell's well-known series including Cuba and New Orleans Mardi Gras. It also highlights early photographs of family, friends, and migrant workers from her time as a staff photographer with Cesar Chavez, hunters from Louisiana, and activists at the recent Women's March in Los Angeles. About Face is complemented by work by other photographers whose practices resonate with the artist's including Ansel Adams, Dorothea Lange, and Walker Evans.
Nell Campbell: About Face is presented concurrently with another exhibition of her work at the Channing Peake Gallery.
This exhibition is made possible by the Joe Melchione Photography Acquisitions and Exhibitions Fund, Joan Davidson and John Schnittker and the WT Family Fund. 
April 6, 2017 - 7:53am