Event Date:
Saturday, January 14, 2017

to

Sunday, April 30, 2017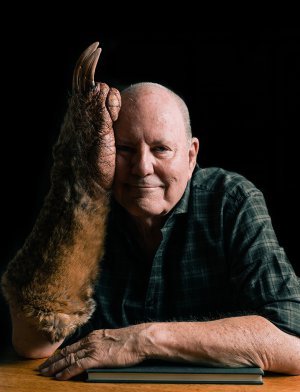 Through sketches, masks and prosthetics, LIFEFORMS: The Makeup Art of Michael Westmore, explores this legendary makeup artist's process of creating singular film and television characters and creatures. This is the first exhibition to display the designs of Westmore (BA 1961, Art History) through the development of some of science fiction's most iconic characters, including Data, Worf and the Borg species. This Oscar and Emmy award-winner visually explodes the boundaries of the human form with designs for a diverse, multicultural, multispecies universe, providing an entertaining and meaningful exploration of the intricacies of human nature. Currently, Westmore encourages the next generation of makeup artists as a featured guest star on the popular television show, Face Off. Curated by Jessica Archer, Doctoral Candidate and Rebecca Harlow, Assistant Curator.  
Now on view! WESTMORE: Making Faces for Film, showcasing Westmore's groundbreaking work on Rocky, Raging Bull and Mask. 
April 20 @ 5pm reception with Michael Westmore at AD&A Museum,
Raging Bull film screening at 7pm at Pollock Theater. 
April 22 @ 12pm: Book-signing with Michael Westmore
For complete information, please visit the Programs & Events page. 
THE WESTMORE FAMILY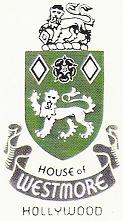 George Westmore was Winston Churchill's barber. He came to the United States and eventually settled in Chicago to found the makeup department at Selig Studios in 1917. George Westmore's sons, Montague "Monte," the twins Percival "Perc" and Ernest "Ern," Walter "Wally," George "Bud," and Frank followed in his footsteps. His sons became the heads of makeup at RKO, 20th Century Fox, Paramount, Universal, and Warner Brothers. They also worked as personal makeup artists who created the looks for famous actors such as Mary Pickford, Buster Keaton, Rudolph Valentino, Errol Flynn, Bette Davis, Joan Crawford, Audrey Hepburn, Elizabeth Taylor and Paul Newman, to name a few. Even Barbie's makeup was designed by a Westmore; Mattel hired Bud to conceive the doll's face in 1957. This family of artists invented the industry standards for the makeups that followed, developing a catalog of basic forms and techniques to either flatter or disfigure. The Westmores were so prolific that few films from the 1900s through the 1960s were made without their direct participation. In total, four generations of Westmores have worked on over 1,500 film and television projects. In 2008, the family was honored with a star on the Hollywood Walk of Fame.  
Organized by the Art, Design & Architecture Museum, UC Santa Barbara in conjunction with LIFEFORMS: The Makeup Art of Michael Westmore; generous support provided by Christiana Benson. Curatorial Intern: Robert Perez (B.A. Arts '17).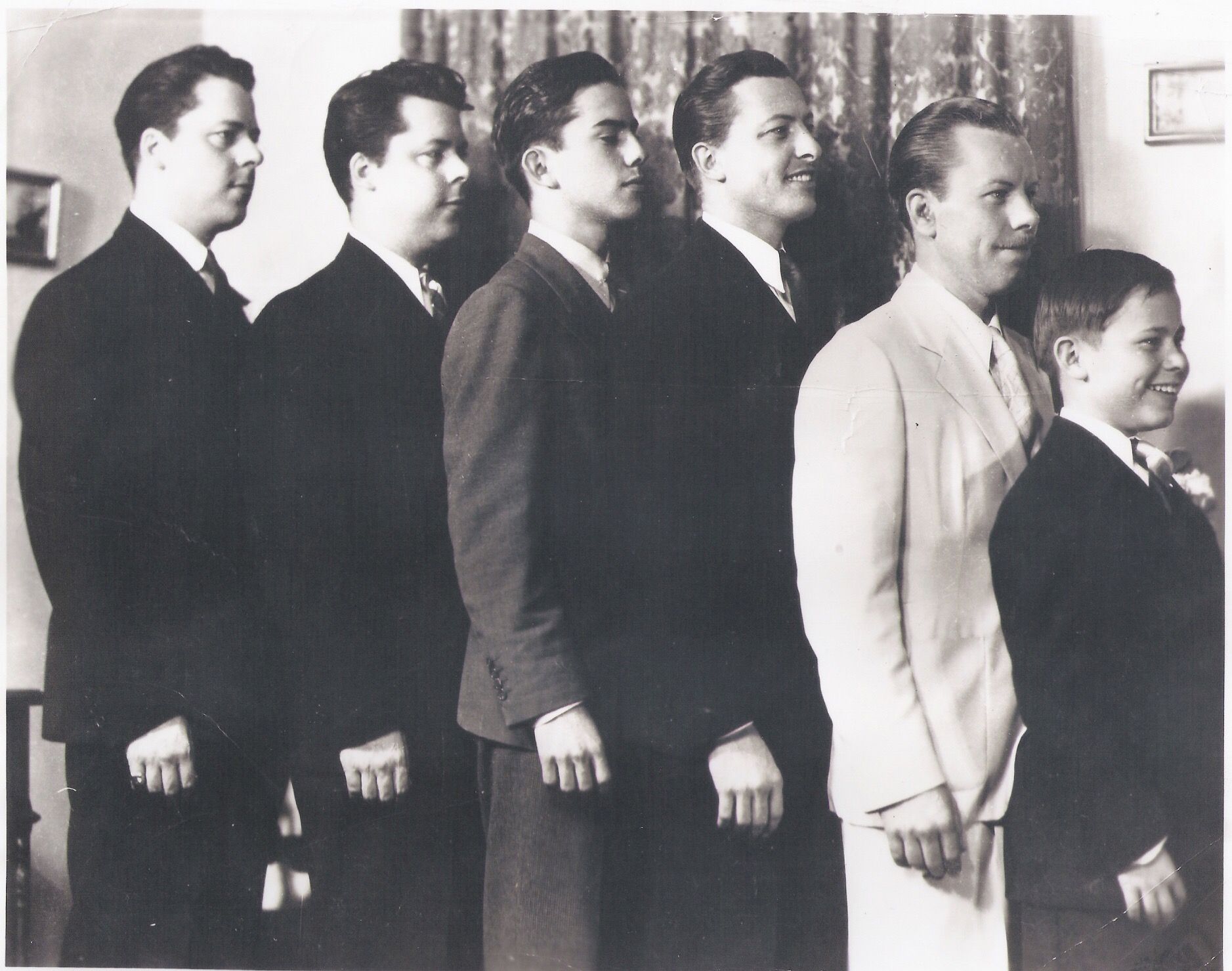 The Westmore brothers: Ern, Perc, Bud, Wally, Monte and Frank.
George Westmore (United Kingdom, b. 1874-1931)
Stars of the silent film era applied their own makeup, with inconsistent results. It wasn't until enterprising hairdresser, George Westmore convinced William Selig, at Selig Studios Polyscope Company, of the benefit of a dedicated makeup artist that the first studio makeup department at a motion picture studio was founded. George invented the hair-lace wig, eventually styling the wig of popular actress Mary Pickford. Throughout the 1920s, George worked on a number of films, including Robin Hood (1922), The Thief of Baghdad (1924) and Ben-Hur (1925). Six of George's sons with wife, Ada, would follow him into the makeup business, establishing the Westmore dynasty.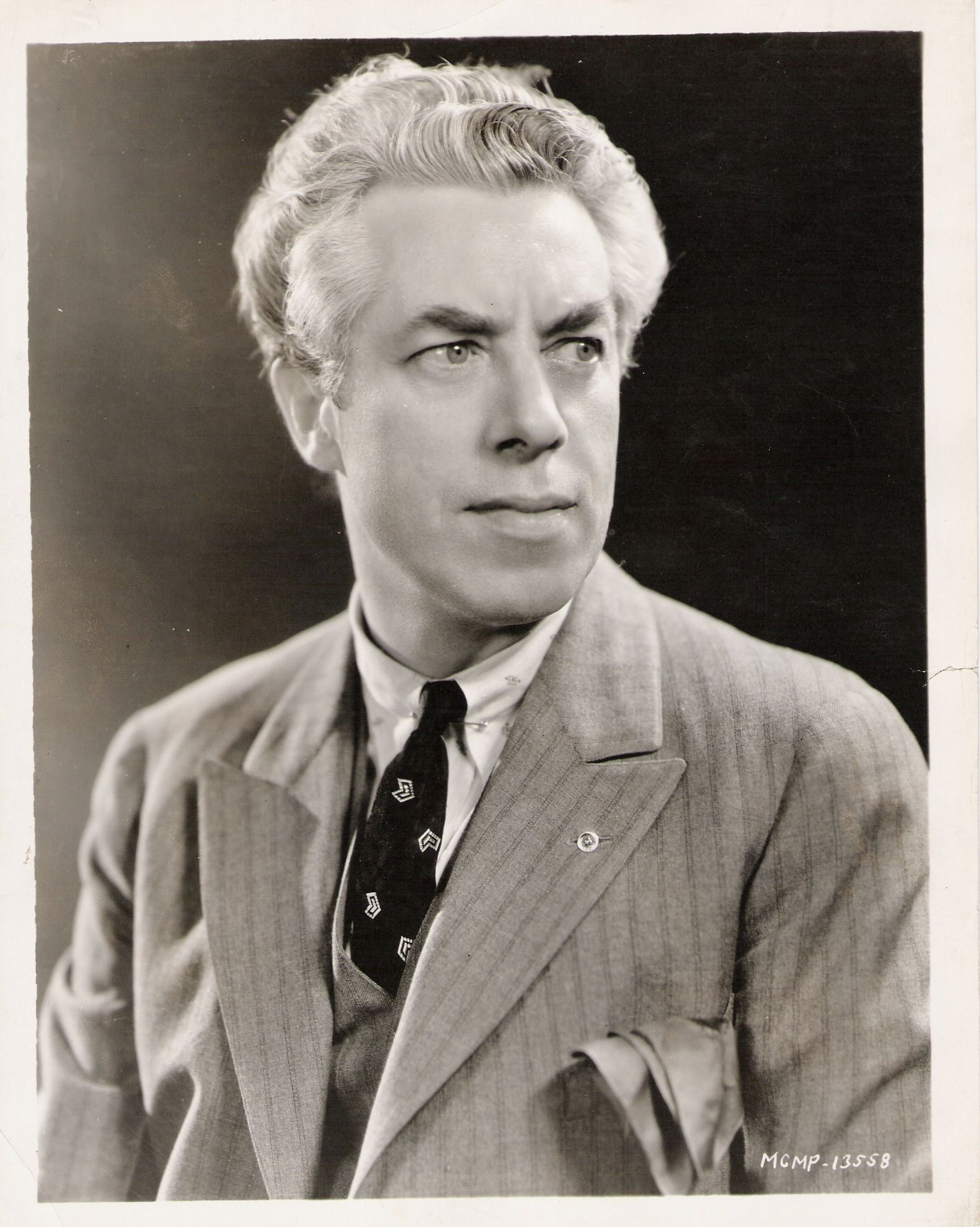 George Westmore, 1930.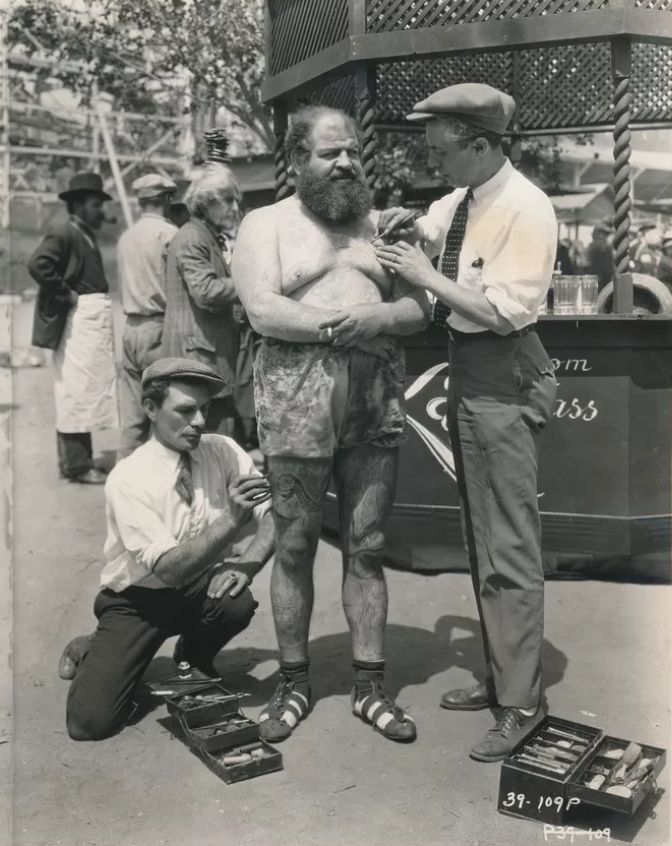 George Westmore creates the look of a "tattooed man." 
Montague "Monte" Westmore (United Kingdom, b. 1902-1940)
Monte, the eldest son of George Westmore is credited with the distinctive and romantic look of actor Rudolph Valentino. Eventually, Monte became the head of the makeup department at Selznick International Pictures where he worked on the Academy Award-winning films Rebecca (1940) and Gone with the Wind (1939). For Gone with the Wind, Monte pioneered the technique of airbrushing makeup to appear more natural. Monte's sons, Marvin, Michael, and Monty Jr., form the third generation of Westmore makeup artists.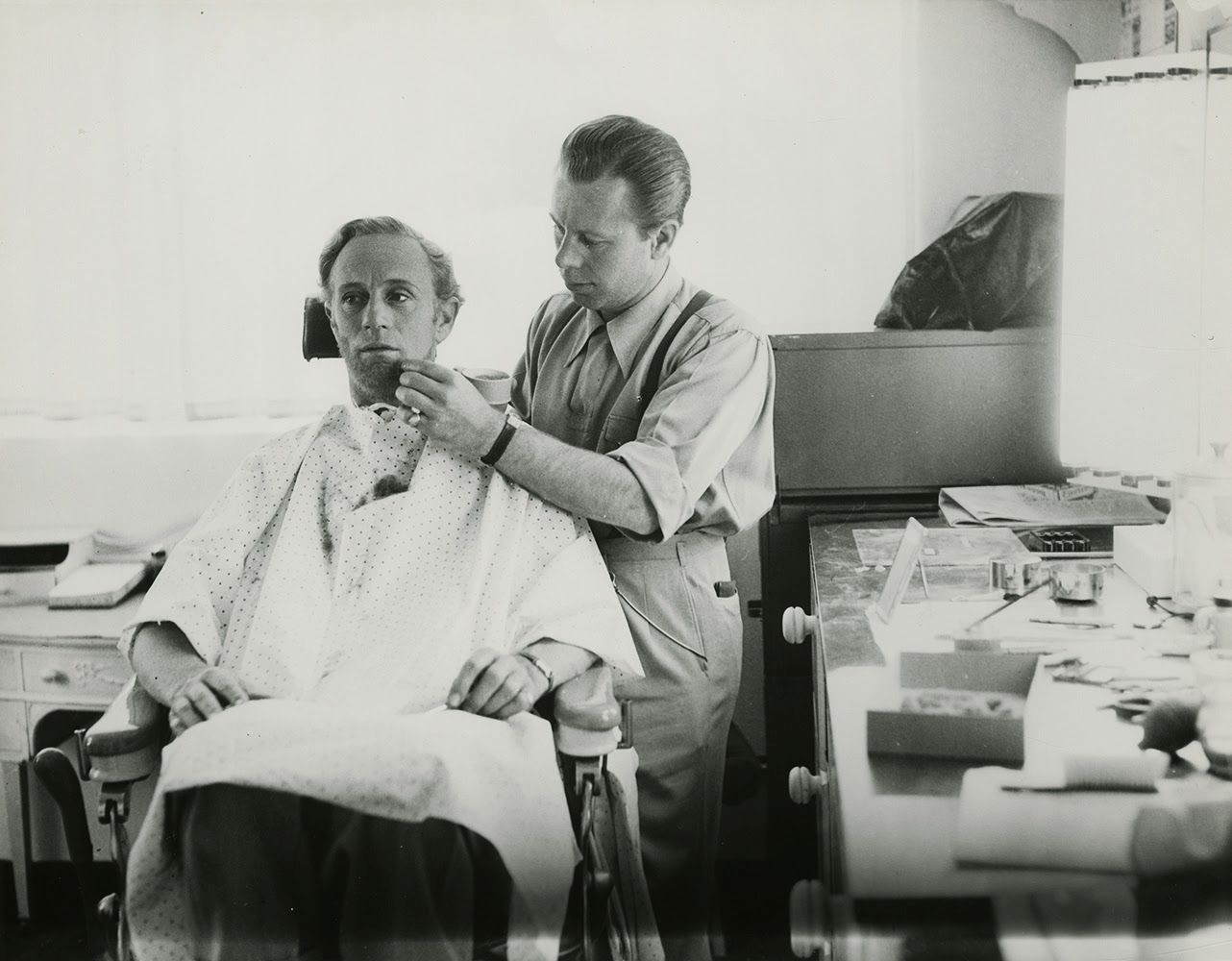 Monte Westmore at work on Gone with the Wind (1939).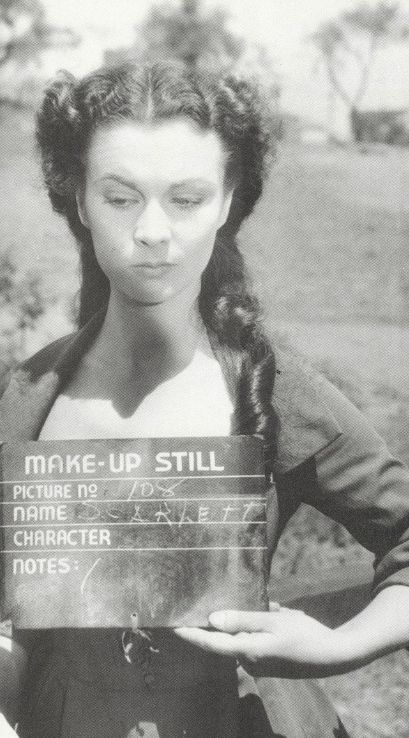 Monte Westmore made actress Vivien Leigh's hazel eyes appear green by applying green eyeshadow, and requesting her costumes consist of green shades.
Percival "Perc" Westmore (United Kingdom, b. 1904-1970)
Perc began his career working alongside twin, Ern, opening the first makeup department at 1st National Pictures (which would later be absorbed by Warner Brothers). While Ern moved on to RKO Studios, Perc secured a lifelong contract at Warner Bros, where he worked on the films The Maltese Falcon (1941), Casablanca (1942), Mildred Pierce (1945), Key Largo (1948) and The Treasure of the Sierra Madre (1948).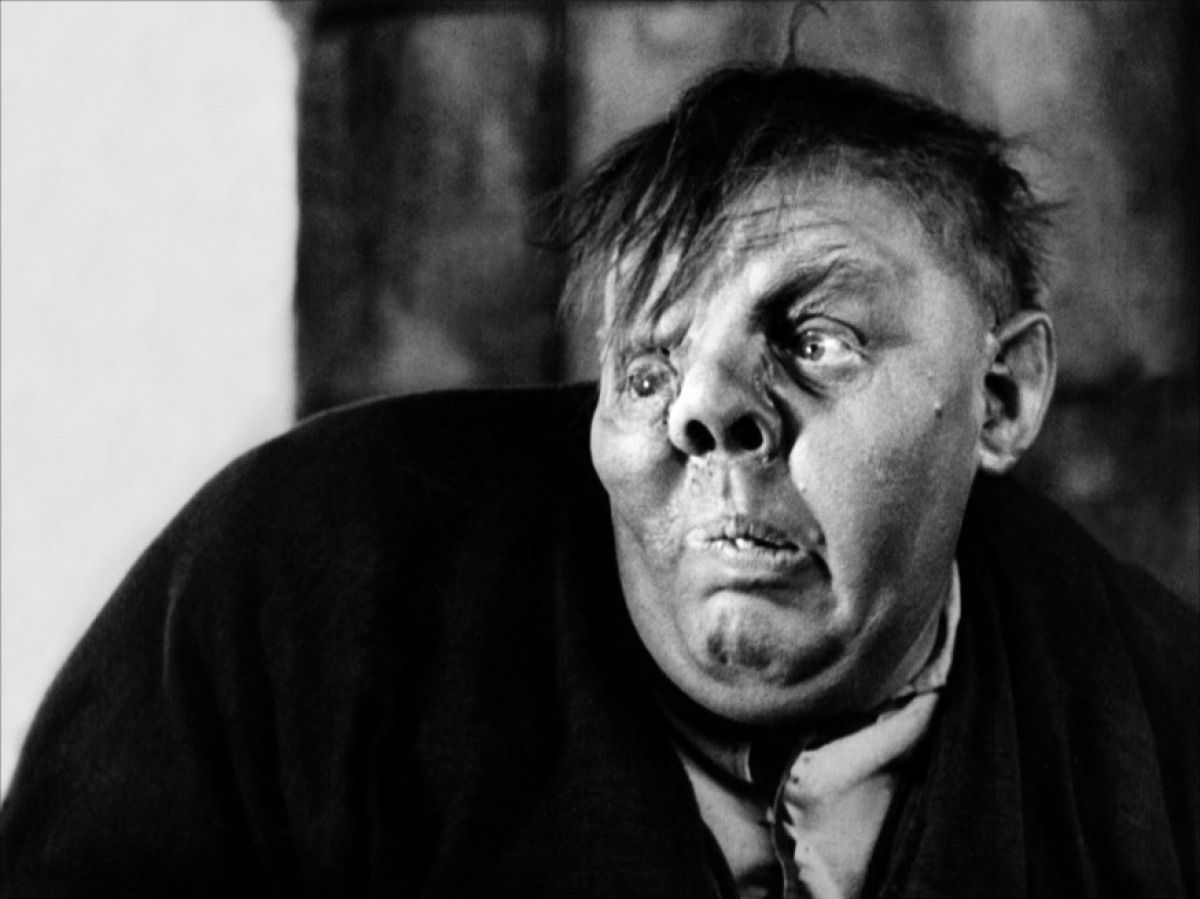 For The Hunchback of Notre Dame (1939), Perc innovated the use of molded foam rubber to create the look of a heavy mass on the back of Quasimodo to actor Charles Laughton.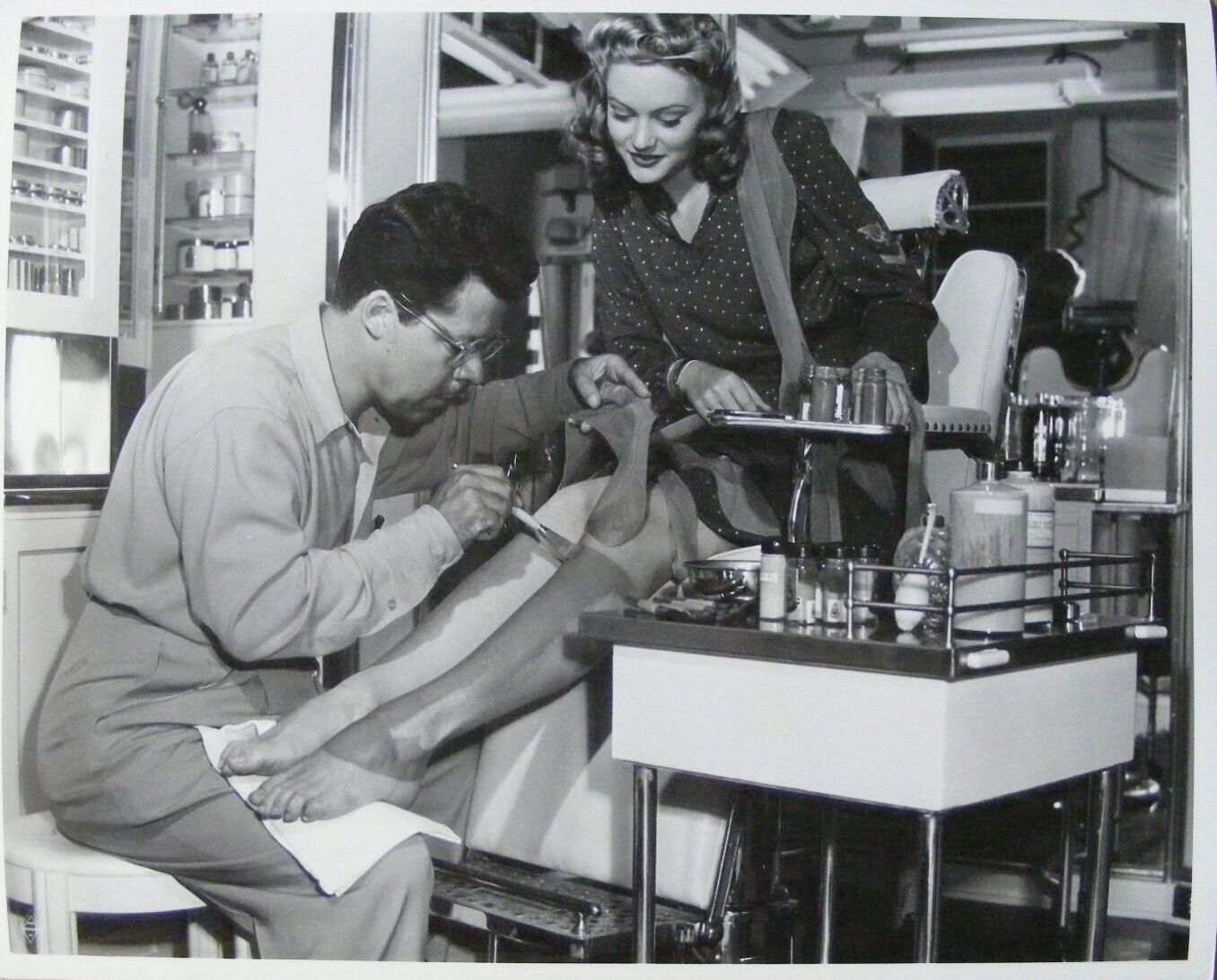 Perc Westmore paints an actress's legs to appear as if wearing stockings. 
Ernest "Ern" Westmore (United Kingdom, b. 1904-1967)
Ern became the first makeup artist to be awarded by the Academy of Motion Picture Sciences for his work on the film Cimarron in 1931. Ern's accomplishment was to create a convincing "age makeup" on young beauty Irene Dunne. In 1955, Ern hosted a popular television series called The Ern Westmore Hollywood Glamour Show, on which he presented tricks of the trade.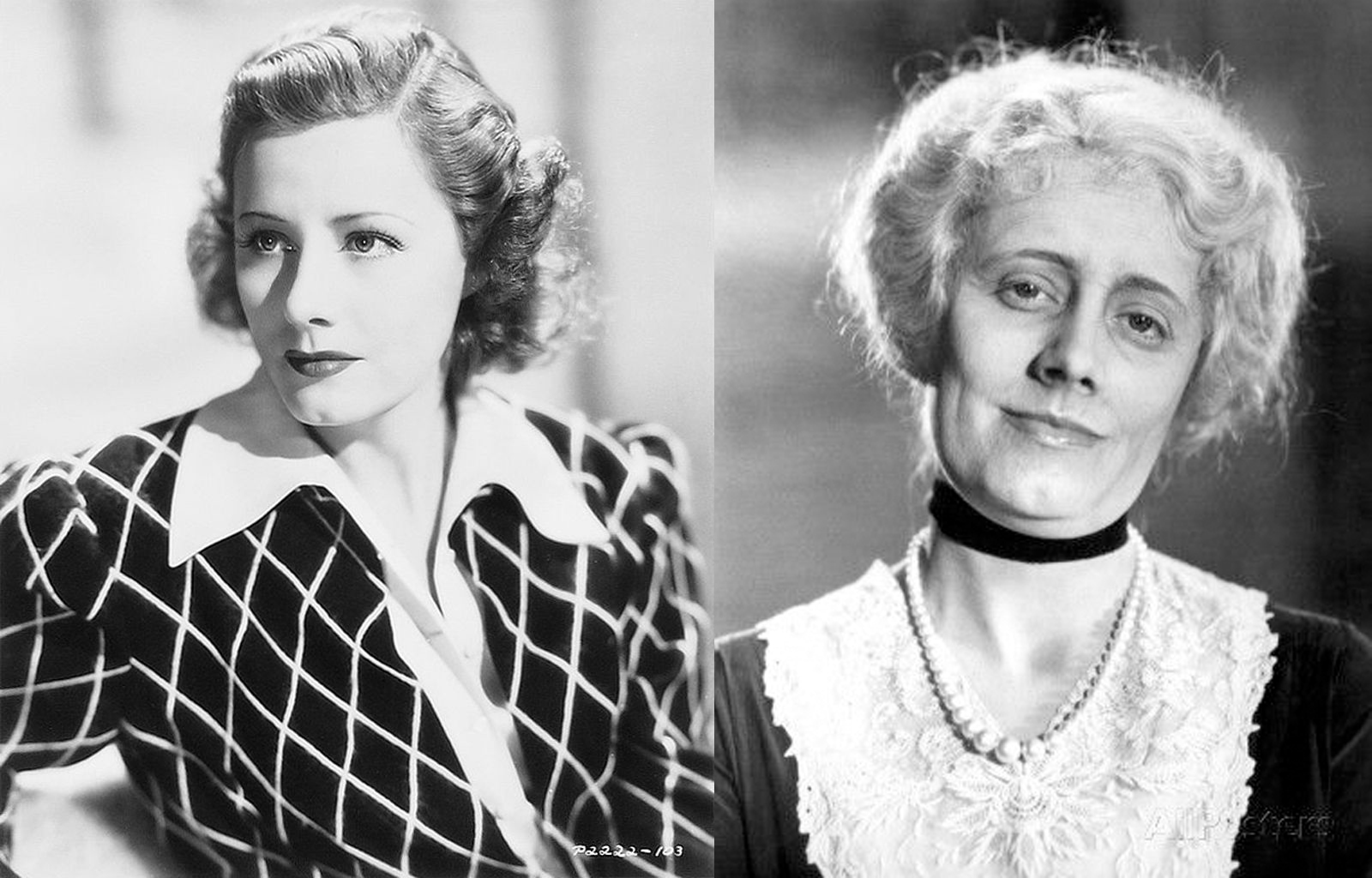 Irene Dunne and in age makeup by Ern Westmore for Cimarron, 1931.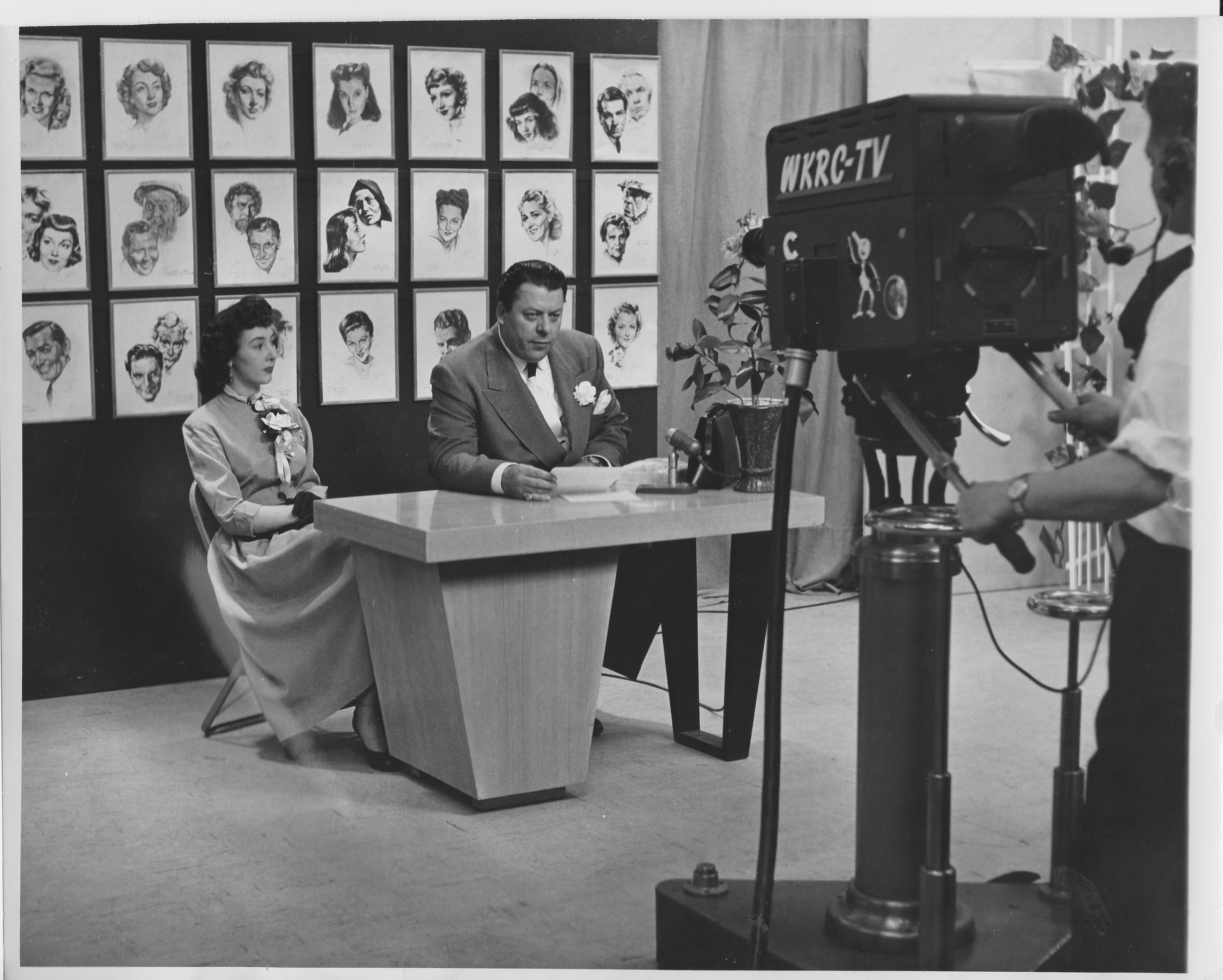 Ern Westmore on the set of TV show The Ern Westmore Hollywood Glamour Show. 
Walter "Wally" Westmore (United Kingdom, b. 1906-1973)
Wally served as the Makeup Department Head at Paramount Studios for 41 years. Wally sculpted Elizabeth Taylor's signature eyebrows, and developed Audrey Hepburn's iconic look for films including Roman Holiday (1953), Sabrina (1954), and Breakfast at Tiffany's (1961).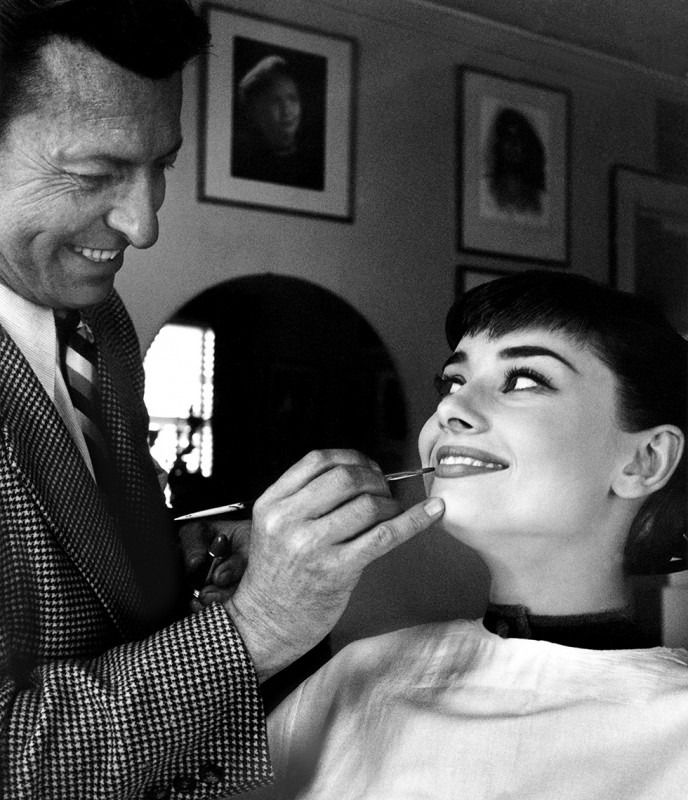 Wally Westmore and Audrey Hepburn, 1953.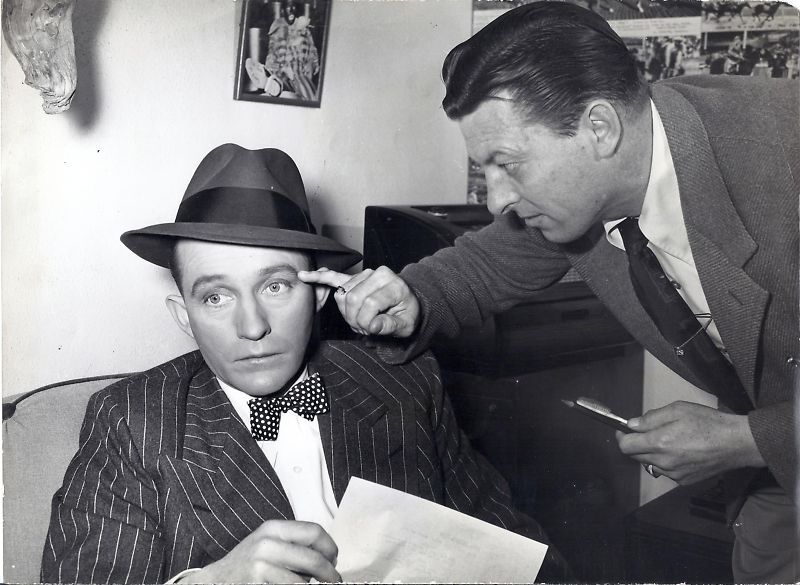 Wally Westmore applying makeup to Bing Crosby.
Wally Westmore's "monster makeup" for Dr. Jekyll and Mr. Hyde transformed actor Fredric March beyond recognition and terrified audiences in 1931.
George "Bud" Westmore (United States, b. 1918-1973)
Bud apprenticed with his older brothers Perc, Ern and Wally, before becoming makeup department head at Universal, a position he held for 24 years.  Bud worked with Disney animator Millicent Patrick to design the monster in The Creature from the Black Lagoon, 1954. In 1957, Mattel hired Bud to design the face of Barbie. Bud worked on over 450 films including Spartacus (1960), To Kill a Mockingbird (1962), and Soylent Green (1973).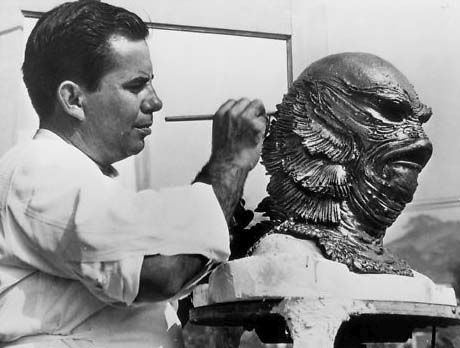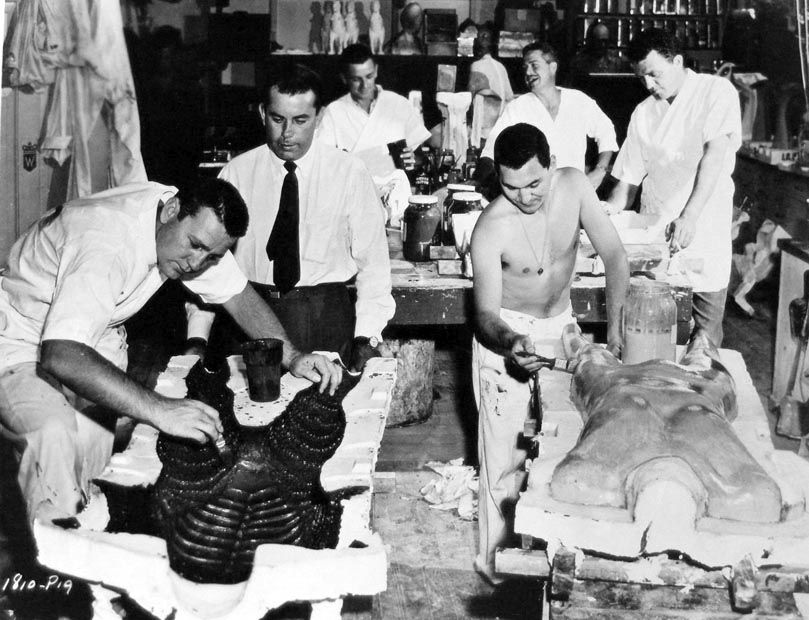 Bud Westmore and team create the monster for The Creature from the Black Lagoon, 1954.
Frank Westmore (United States, b. 1923-1985)
On Cecil B. DeMille's film The Ten Commandments, Frank Westmore was responsible for a cast of thousands, creating period makeup in the heat of the Egyptian desert. Frank worked on many television series. He devised a makeup color chart for the first full color television series, Bonanza. In 1971 Frank became the first Westmore to win an Emmy for his ground-breaking work on Kung Fu.  Frank wrote his biography and family history, The Westmores of Hollywood in 1976.
Frank Westmore applies Shirely Maclaine's makeup for My Geisha, 1962.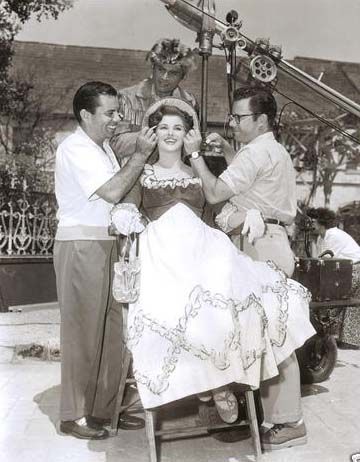 Frank Westmore and Bud Westmore apply makeup to actress Christiane Martel.
October 31, 2016 - 7:35am