Event Date:
Saturday, February 25, 2023

to

Sunday, March 3, 2024
Event Date Details:
Opening reception:
Saturday, February 25
5:30-7:30pm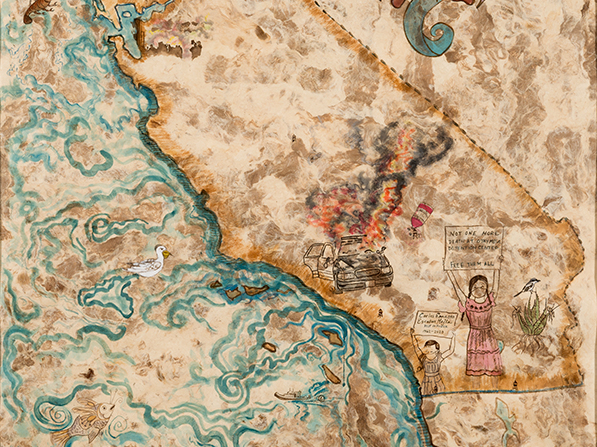 The Art, Design & Architecture Museum at UC Santa Barbara presents Sandy Rodriguez — Unfolding Histories: 200 Years of Resistance, an exhibition coinciding with the bicentennial of the Chumash Revolt that makes visible moments of resistance from the 19th century to the present. Her work maps the ongoing cycles of violence on communities of color by blending historical and recent events. The works are painted with locally sourced natural materials such as minerals, plants, and insects reaffirming artistic traditions of the Americas. The centerpiece of the exhibition is a double-sided folding screen, or biombo, with inlaid abalone and mother of pearl depicting a map of historic and contemporary uprisings on one side, and on the other side the nocturnal view of Santa Barbara from Santa Cruz Island—known also as Limuw, a sacred site of the Chumash community. 
Raised in San Diego, Tijuana, and Los Angeles, Rodriguez is a first generation Chicana and a third-generation artist. Her work investigates the methods and materials of painting across cultures and histories. Her Codex Rodriguez-Mondragón, with new additions created for the exhibition, is made up of a collection of maps and paintings about the intersections of history, social memory, contemporary politics, and cultural production.
The exhibition is made possible through generous support from the Terra Foundation for American Art.
January 18, 2023 - 3:17am