The AD&A Museum presents alumni artists and their work held in the Fine Arts Collection during April's All Gaucho Reunion month. Thirty-four alumni and faculty artist biographies were produced by the Museum's interns during Winter quarter 2021. Under the guidance of Leticia Cobra Lima, Internship Program Coordinator, and Susan Lucke, Collections Manager and Registrar, the undergraduate interns researched and wrote the pieces, exercising their art historical skills and contributing scholarship to further enrich the Collection. We will be sharing the alumni and faculty artist biographies and their works of art all month long. Check back soon.
April 16
Image: Mary Heebner, Portal (Standard Series), 1991. Mixed media. 15 x 22 in. Gift of Charles Craig. Art, Design & Architecture Museum; UC Santa Barbara.
Images courtesy of the artist.
Artist alumna and Los Angeles native Mary Heebner's (MFA 1977) work is rooted in the spirituality of ancient relics, land, and the emotional power they hold as they are weaved into foundational cultural narratives. Through fragmentation and collage in her abstract and figurative pieces, Heebner explores the intimate process of creating historical narratives by piecing together physical and fictional references. Grounded in an anthropological lens, Heebner draws subject matter from her travels, attentive to the local culture and distinct mythologies surrounding the ancient objects and landscape she reinterprets. Through reworking these physical articles, she expresses the intangible responses they elicit. Her range of mediums include handmade paper works, drawings and paintings, with overarching aesthetic qualities including muted colors and fluid brushstrokes. Graduating in 1973 with a BA from the College of Creative Studies at UC Santa Barbara and later receiving an MFA in 1977, Heebner based her artistic career in Santa Barbara. Beyond art, Heebner is a writer as well, founding Simplemente Maria Press in 1995 and publishing over 15 multimedia books. Her works can be found in public and private collections such as the San Francisco Museum of Modern Art and the National Gallery of Art.
-- Biography by Skylar Lines, AD&A Museum Intern 2020-21
Artist statement for STANDARDS 1990-1991
My dad, Walt Heebner, played clarinet and alto sax—professional society gigs—from the time he was twelve. He eventually went on to become an A&R man (artist and repertoire) recording artists ranging from Count Basie, Arthur Rubinstein, and Arturo Toscanini, to The Sons of the Pioneers. He wouldn't allow any of his four daughters to play stringed instruments, saying simply that he couldn't bear to hear strings played out of tune. Growing up I played the flute.
He stressed the importance of practicing one's scales, and also how good ideas for new tunes came from what he called "Standards" – beautiful songs mainly from the post-war era.
I thought of this when, newly married, and starting an adventurous life of travel on assignments with my new husband Macduff—to Scotland, Italy, Mexico and more—that was quite exciting. But in the studio, I was stuck. My dad visited my studio, and as I gushed on and on about this and that country and assignment, he interrupted me, frankly but tenderly, asking, "Where's Mary?"
He named what I could not. I needed to get back in touch with my own work, to generate something fresh and new. I decided to return to a format I developed under my mentorship with collage artist William Dole, and made a series of collages I called "Standards" — a circling back to my self as reflected in my earlier studio work. Through discipline and time, I soon learned how to balance my love of travel with Macduff, and my practice as an artist, writing and sketching while on the road,  until the two became inseparable parts of a whole.
-- Mary Heebner, 16 April 2021
April 1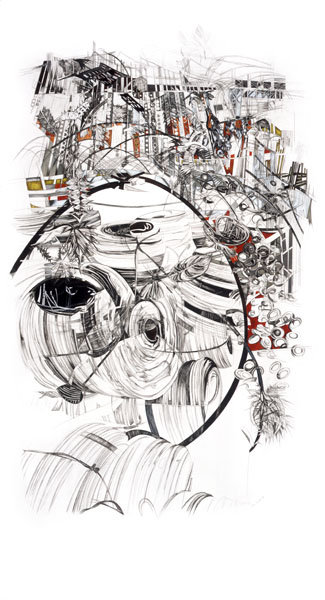 Image: Ann Diener (UCSB, MFA 2005), Vertical Field #3, 2006. Graphite, Prismacolor, gouache and cut paper on paper. 93 x 51-1/2 in., framed. Gift by Ann Diener in Memory of Marie Vierra. Art, Design & Architecture Museum; UC Santa Barbara. 
Ann Diener (MFA 2005) earned her Bachelor's degree from UCLA and her Masters of Fine Arts from UC Santa Barbara, where she also taught. Through drawing, Diener maps​ the layered history of place, charting ways that spaces are changed over time by those who inhabit them. Diener's artworks investigate, record, and trace the diverse elements that comprise the complicated history of place. Often large in scale, the works are multi-layered narratives. By incorporating maps, charts and printed materials, the artist examines the social and political ramifications of how land and urban spaces are cultivated, manipulated, developed and controlled. Through references to land, culture, time and memory, her complex works move beyond mere geographic representations and engage with the anthropological layers of place. They chart the way a location is inevitably changed by its inhabitants over many generations and are often informed by the changing sociological and topological landscape of Central California amidst agricultural development. In 2016, she expanded her practice to include lithographs and tapestries.     
-- Biography by Misha Farrahi, AD&A Museum Intern 2020-21
March 29, 2021 - 6:24pm