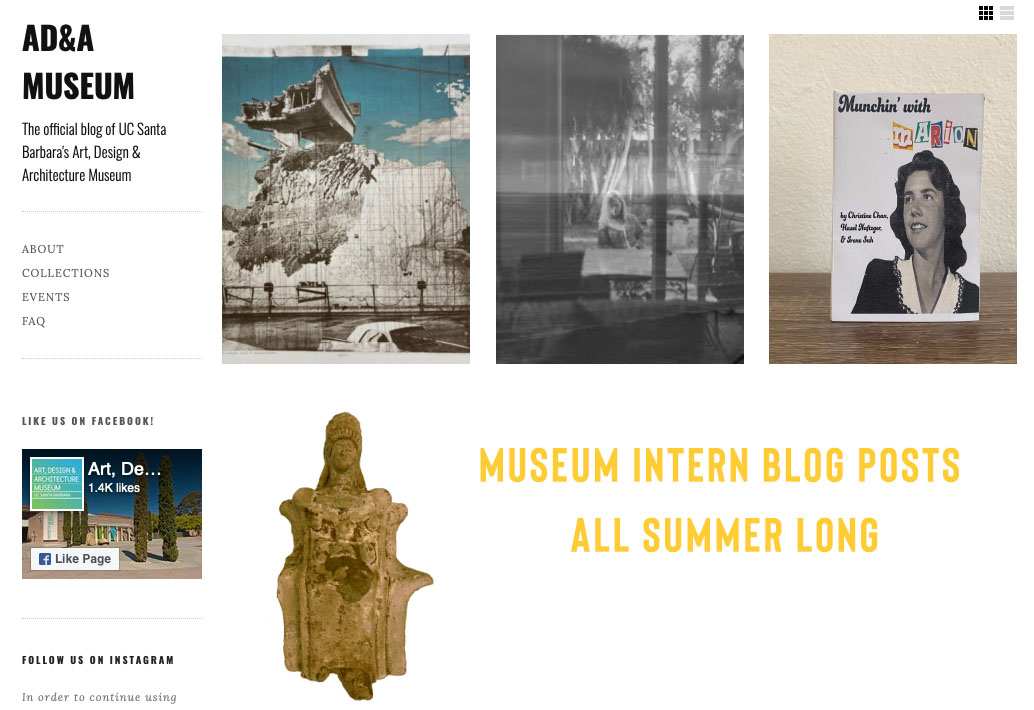 The AD&A Museum is pleased to present the AD&A Museum Interns' special blog projects. From discussions of ancient to contemporary art with pieces from the Museum's collections, to virtual exhibitions, at-home workshops and crafts for kids, the Interns have created exciting projects with multi-media components during Winter and Spring 2022.
We invite you to click on the links below to see the creativity for yourself. Each week this summer, we'll post a new Museum Intern project on the AD&A Museum Blog. Stay tuned!
June 20 - Learn about ancient votive sculptures and create one out of paper.
June 29 - Learn about zines, Marion Post Wolcott, and enjoy making a zine with recipes from favorite IV spots.
June 30 - Learn about how to merge two photographs to create a new image with unexpected results, in a workshop inspired by Catherine Opie's photography.
July 6 - Enjoy a Virtual Exhibition of a selection of the Museum's artworks.
July 13 - Learn about Garry Winogrand's photography series "Women Are Beautiful".
July 14 - Learn about Huichol Mexican Masks.
July 22 - Learn what UCSB MFA Graduates are up to and their approaches to practicing art in Santa Barbara
July 22 - Learn about Visual Literacy, why it's important, and download the Visual Literacy Interactive Workbook.
July 29 - Learn about the Art of Janice Lowry and Assemblages.
August 5 - Learn about New Media in Local Museums.
August 11 - Learn about satire in Doctor Syntax and the Bees.
For more information about the AD&A Museum Internship Program, please visit: https://museum.ucsb.edu/learn/internship
July 6, 2022 - 6:26pm